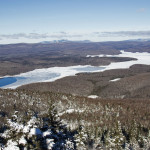 The Mount Snow Ski Resort of Southern Vermont offers something for every taste in every season. In the winter, Mount Snow buzzes with the excitement that only a world-class ski resort can generate. In the summer, the area retreats into a tranquil mecca for swimming, boating, biking,hiking and golf. There are two championship golf courses within 10 minutes of the lodge and three more within 40 minutes drive.
The towns of Dover and Wilmington offer some of the finest restaurants in Vermont, as well as art and entertainment comparable to cities ten times their size. With such an abundance of activities, it is easy to see why visitors return year after year.
From mega Mount Snow resorts to B & B's, the region is home to a diverse group of area lodging choices. However at the Big Bears Lodge we offer the amenities of a four star hotel with the charm of a Southern Vermont country inn. Nestled in the mountains and set in a park-like setting Big Bears Lodge is just a quarter mile from the lifts. We invite you to enjoy a new kind of Mount Snow lodging experience.
We are a family run lodge with an emphasis on comfort and an eye on style, the upkeep of the lodge is meticulous. We are constantly working to improve your time spent with us. It is our goal for every guest to feel as comfortable as if they were in their own home.
We are one of a small group of area lodges that cater to families. From our family guest rooms, to our game room, to our outdoor pool and large redwood play structure, the Big Bears Lodge is a family paradise. Our family lives here, so we know that yours will enjoy their stay.
When it comes to Mount Snow valley, the Big Bears Lodge offers a great location, a wonderful family atmosphere, all at an exceptional value! Book your reservation online. An exceptional value in West Dover, VT hotels Group Ski packages and packages including lift tickets can not be booked online.